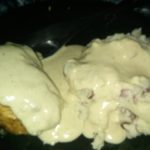 Chicken Cordon Bleu is one of my personal favorite foods, and it's so hard to find someone who does a good job. Years ago I learned to make my own and perfected my recipe. I very rarely make this anymore because I've found local places that do as good as I do with so much less effort from me.
Ingredients
Chicken & Stuffings
6

halves

boneless chicken breast

6

slices

Swiss cheese

6

slices

ham

3

tablespoons

All Purpose Flour

1

teaspoon

paprika

cooking string or kite string
Gravy
6

tablespoons

butter

3/4

cup

dry white wine

1

teaspoon

chicken bouillon granules

1

tablespoon

cornstarch

1.5

cup

heavy whipping cream
Instructions
Chicken Prep
Chicken Cooking
Heat the butter in a large skillet (the skillet should have straight sides if possible) over medium-high heat.

Cook the chicken until browned on all sides. To get the sides cooked, lay chicken on it's side up against the sides of the skillet.

Add the wine and bouillon.

Reduce heat to low, cover, and simmer for 30 minutes, until chicken is no longer pink and juices run clear.

Transfer the breasts to a warm platter, leaving the juices in the skillet.

Cut & remove string (if you forget this step it is VERY embarrassing)
Gravy Makin'
Eatin'
Pour over the chicken (or over the mashed potatoes. Or directly into your mouth [after cooling, of course]).

Serve warm.
Notes
I found a recipe that I liked on AllRecipes.com, Chicken Cordon Bleu II.
It was a stressful recipe the first time, but I have figured out a few tricks to make it easier & yummier too. I hope this helps you enjoy this delectable recipe.  Just a hint, this is excellent with mashed potatoes(the gravy makes them even more amazing).
Print Recipe